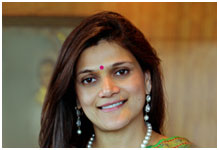 Neerja Birla
Founder and Chairperson

My endeavour is to create a movement, empowering mental health in the most holistic way conceivable. We need to ensure that individuals or families distressed with mental health, psychological or emotional problems have the right to dignified and professional therapeutic interventions and treatments.
Most of such problems go undetected, due to a lack of awareness and education. Individuals or families do not seek the right path of treatment, owing to the stigma and discrimination towards mental health. This leads to immense struggle and pain, sometimes over years, for these individuals and their families.
At Mpower, we will provide inimitable campaigns, seminars and workshops to bring about awareness and education to stamp out stigma and discrimination. We will promote strategies and modules for proactive prevention. We will establish world class, holistic and multi-disciplinary services for therapeutic interventions and treatments.
We will give to the community, a safe and comforting haven, ensuring that all of the above mentioned needs are taken care of with utmost professionalism, empathy and dignity.
I urge you to be more cognizant, and join the movement. Make a pledge, get involved, and let's 'Stamp out Stigma' together. Let's help those who need to address mental health issues. It could be a parent, a sibling, a spouse or a friend. It could be you.
Dr. Zirak Marker
medical director

Psychiatric, psychological and emotional problems often go undiagnosed and untreated, because people attribute their condition to their circumstances (like stress at home, work, schools, relationships, families, etc.) rather than a treatable medical condition.
Most people don't know that depression, anxiety, schizophrenia, bipolar disorder, ADHD and most psychiatric conditions are caused by neuro-chemical imbalances, physiological changes and disruptions in the brain.
Myths and misconceptions about psychiatric and psychological treatments deter families from seeking help. Many individuals and caregivers do not recognise the warning signs of mental health conditions, as the symptoms are usually unseen or related to behavioral changes. Children and adolescents are far more vulnerable to psychological and emotional problems than any other age group today.
We ought to embrace the diagnosis of mental health conditions with positivity, rather than hiding them in shame. At some points in our lives, we all have been through stress leading to emotional or psychological setbacks. We need to stamp out stigma and discrimination, so that individuals along with their parents or caregivers can seek help and receive timely intervention and treatment. As they say in the case of any medical condition, earlier the diagnosis and treatment, better the prognosis and recovery. Loved ones and parents need to be more aware, vigilant and educated about mental health problems, so that prevention can be made powerful.
In treating and accepting their mental illnesses, patients will ultimately live more meaningful, productive and fulfilling lives with functionality, but most importantly with respect and dignity.
At Mpower, we love you for what you are, accept you for what you're not, and are here to help you become what you want to be.